John Masters Organics
(29 Artikel)

Ihre Filter:
Marke:
John Masters Organics
Nicht das Richtige gefunden?
John Masters Organics: Professionelle Salon-Produkte für gesunde Haare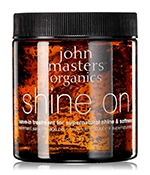 Die Wichtigkeit guter und bedenkenloser Inhaltsstoffe ist heutzutage größer denn je. Biologische, umweltfreundliche und schadstofffreie Pflegeprodukte zu entwickeln, welche trotzdem nicht an Exklusivität und Wirksamkeit einbüßen, war die Vision von John Masters im Jahr 1991.
» We only get one body and we only get one planet. Why not treat them both with the utmost care? «

(John Masters)
John Masters Organics: Das Beste für Haar und Umwelt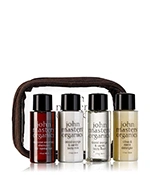 John Masters' Geschichte begann als Stylist in New York. Durch seine Expertise gewann er bald an Beliebtheit und Bekanntheit. Sein privates Interesse an biologischen Produkten schwappt auch bald in seine beruflichen Überzeugungen über, sodass John sich immer mehr der schädlichen Wirkung der aggressiven Chemikalien und schädlichen Dämpfen, die Tag für Tag in Salons zum Einsatz kommen, bewusst wurde. Bewegt durch diese Erkenntnis eröffnete John Masters den ersten "Frischluft"-Salon in Manhattan, in welchem er ganz ohne Chemikalien auskam.
Außerdem begann John zu experimentieren, testete verschiedenste Öle, mixte Pflanzenextrakte und andere biologische Essenzen. So entstanden die ersten Mixturen, Rezepte und Formeln, aus denen letztendlich Johns erstes biologisches Haarpflegeprodukt hervorging. Seine Leidenschaft und innere Überzeugung, sowie seine hohen Ansprüche an Produkte in Salon-Qualität, führten letztendlich zu einem Sortiment an biologischen, umweltfreundlichen und hochwertigen Haar–, Körper– und Hautpflegeprodukten.
John Masters Organics : Für eine Haarpflege mit gutem Gefühl
John Masters Organics Produkte machen Haut und Haar auf natürliche Weise schöner. Die Produkte sind für Frauen genauso wie für Herren geeignet. Die professionellen Shampoos, Haarlotions und Conditioners von John Masters Organics stärken, kräftigen und regenerieren das Haar mit rein biologischen Inhaltsstoffen. Frei von schädlichen Zusätzen sind die Produkte besonders auch für empfindliche oder allergiefällige Hauttypen geeignet.
Die komplexen Mixturen aus biologischen Ölen und Pflanzenextrakten machen die John Masters Organics Produkte zu einem hochwirksamen Wundermittel. Besonders für bereits geschädigtes und kraftloses Haar sind die schonenden Formeln geeignet, da sie auf zusätzliche Chemikalien verzichten, die die Haarfaser weiter angreifen und schädigen können. Stattdessen kommen bei John Masters Organics die hochwertigsten biologischen Inhaltsstoffe zum Einsatz, wie beispielsweise ätherische Öle , die nicht nur pflegen, sondern zudem einen wunderbaren Duft verströmen. Für die verschiedensten Haartypen, über geschädigt, kraus oder feines Haar bietet John Masters Organics ein haar- und umweltfreundliche Lösung. Überzeugen sie sich selbst!